5 things only a Ranch Hand owner would understand
1. Deer-Vehicle Collisions: Really not a big deal. Many testimonials can support that when our customers hit a deer while driving and they have a Ranch Hand Grille Guard or Front End Replacement, there is little to NO damage to their vehicle or the Ranch Hand product.
2. Peace of Mind.
People who have Ranch Hand products on their vehicle know that wherever the roads may lead them, they are protecting not only their vehicle but themselves and their loved ones as well.
3. They Stand Out From The Crowd.
It doesn't matter where you go - the pasture, out on the town, a road trip or an outdoor concert - you and your vehicle will be sure to turn heads.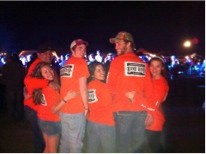 4. Ranch Hand Is More Than A Brand
.
Sure, Ranch Hand stands for safety and durability. That's why our motto is, "Be On the Safe Side." But just as important, we stand for community service and giving back to the people who give us their business. Ranch Hand: Our story makes good news!
5. We All Know About "Ranch Hand Envy".
Just tell them next time, BE ON THE SAFE SIDE.