Special Message From LiftFund, Formerly Accion Texas
Dream it. Fund it.
---
Unveiling Our New Name and Logo
To our valued clients, partners and stakeholders:

Today we are unveiling our new name and logo.

For 20 years, we have made it our mission to support, inspire and elevate small business owners, entrepreneurs and the local communities we serve. After conducting months of internal and external research and numerous interviews with stakeholders throughout our organization's footprint, we are ready to introduce our new brand.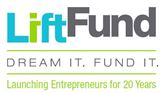 LiftFund Inc. will be our corporate name as of January 13th, but we will have a short term transition that will end on January 30th when LiftFund will be fully operational.

We are excited to continue Lifting our clients while helping to build the pathway to entrepreneurial success. We've had 20 incredible years of funding dreams as Accion Texas and the best is yet to come as LiftFund!

We have built a solid reputation of helping small business owners gain access to affordable loans when they were unable to obtain capital through traditional markets.

Our goal is to continue that tradition and increase the number of people we serve and the services and products we offer.

Our new name and logo will help us better identify with potential entrepreneurs and small business owners in the eight states we currently serve. We are only changing our name. Our board of directors, leadership, tax ID status, and most importantly our mission will remain the same.

I'm excited to also announce Chase as the presenting sponsor of LiftFund's rollout tour. In keeping with the longstanding partnership between the two organizations, Chase has signed-on as a presenting sponsor of the rollout tour to introduce the LiftFund brand in 17 cities. Chase has been a strong supporter of this microlender since its founding, providing volunteer support and grants, including a $5 million grant in 2011. This event will give both partners the opportunity to reiterate their commitment to economic development through their support of small business.

This spring we will be moving our headquarters to LiftFund's new Lending and Learning Center at 2015 W. Martin, San Antonio, Texas. Stayed tuned for this and more…….

To learn more about LiftFund, click here to watch our video. Join our movement as a volunteer, investor or donor.

Follow our social media networks to get the latest in LiftFund news.


Best,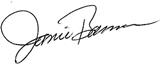 Janie Barrera
President & CEO, LiftFund
Toll Free 888 215 2373
Contact:
Michael Leos, Marketing Associate
(210) 531-5539